If you are a cat owner and overly concerned about the healthy diet of your pet and their need for wet food, then you can put your worries to rest. You've come to the right place to get an answer for the impact of a wet food diet, more specifically Friskies lil soup. So stick till the end to see whether friskies lil soup is good for cats, and what are the best foods amongst them.
This article is aimed to clear all your doubts about Friskies lil soups and whether it's good for cats or not. In later cases, we will discuss the alternatives as well. So stay focused and let's get started.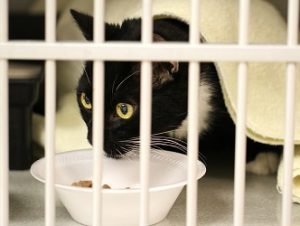 Is Friskies lil soup good for cats?
If you are a regular cat food buyer, have you ever thought about what positives are lying behind the consumption of these canned foods?
Talking about Friskies lil soups, they are a good complementary diet for your kitty especially if it's quite choosy and give you a hard time finishing her meal.
These soups provide an adequate amount of moisture your cat requires on a daily basis since she doesn't have enough liquid intake.
Furthermore, Friskies lil soups entertain your pet cats with an irresistible aroma. These soups are available in various flavors to provide your pet with a range of meal alternatives.
Friskies lil soups are considered to have nutritional values in addition to a favorable taste. The soup holds enough calories to fulfill the nutritional requirements of your adult housecat daily.
What to look for in healthy cat food
Before we continue with the suggestions of cat food, it's important to know what qualifies as healthy food for your cat.
Your vet may provide you guidance on the most appropriate food alternatives based on the breed, age, or health conditions of your cat.
Every cat needs a diet that is well-balanced and contains all the essential nutrients, animal protein, and healthy fats.
Although a higher price does not always indicate better quality, the quality and amount of the ingredients account for the majority of the expense of cat food.
As per the vets every cat food must contain following nutrients in the given quantities:
30% of good quality animal protein
Not more than 20% of fats suitable for pets
Easily consumable fibers
Carbohydrates
Mineral
Vitamins
Enzymes
Fatty acids
The quantity of animal protein and the overall quality of the meal are two factors that influence the cost. We looked for toppings that are both delicious and affordable.
Below are our top recommendations of Friskies lil soups for the best cat feeding for pet owners at a cost.
Most Recommended Friskies lil soups for cats
There are different types of products offered as Friskies lil soups with varying ingredients and nutritional values. It also depends on your cat which product entices her taste buds and keeps her stomach content. However, the contents present in a meal also matter especially if your kitty is sensitive.
Here are some products which are better and highly recommended for your feline feed.
Friskies lil Soup Sockeye Salmon
Serve your cat a dish of Friskies Lil' Soups Containing Pink Salmon in a Creamy Chicken Broth grownup moist cat food addition, you'll give her a little bit more to purr over.
Every serving of this cat food is made with genuine salmon, and it is made with healthful, premium ingredients that you would want for your furry friend.
You get to experience the nice sensation that comes from satisfying her taste senses, and she receives a deliciously tasty addition to her healthy and complete daily diet.
Witness as she digs into the soft chunks that make this dish so appealing as you let her sip her own through the creamy liquid.
When you're ready to spend some quality time with your feline buddy, give her this Friskies Lil' Soups adult liquid cat food addition. With every wonderful mouthful, you can show her how much you love her lively activities.
Friskies lil Soup Flaked Chicken in Tuna
With a wide range of exciting and excellent options available in the market, the taste and texture of Friskies flaked chicken in Tuna is toothsome to cats of all age groups but it is only recommended for adult cats.
All of their meals, whether they are wet food, dry food, supplements, or treats, are made with quality ingredients and provide full and adequate nutrition with love at first bite.
Each bag contains only healthy ingredients, including genuine chicken flakes designed to add to the adult cat's nutritious diet or serve as a delectable after-meal treat.
Made with a silky, creamy tuna soup. All artificial flavors, colors, preservatives, and by-products from animals are completely absent.
This delightful cat treat is made without grains so even sensitive companions may enjoy it.
Why Friskies lil soups may not be good for your cat
We know that Friskies doesn't typically employ high-quality ingredients. Despite the fact that you can typically obtain superior cat meals at a comparable price, they are sometimes regarded as a cheap brand.
They seem to be able to continue using really subpar ingredients because of this. Although meat is often the first component, it is frequently of poor quality.
Majority of recipes also include a lot of supplements, including rice and maize. Their wet food especially has a high carbohydrate content, which is unhealthy among cats.
According to some reviews and complaints from the owners, cats who consume canned Friskies food with specific serial numbers suffer injuries or pass away.
One such flavor is the lil soup dreamy chicken flavor. It's not very well-liked, nor good for cats.
But there are some issues with every cat food out there, so while not lethal, it isn't the best option out there, but still can work for your cat.
Friskies lil soups alternatives
Now, while some Friskies lil soups formula may be well suited for your cat, it does not mean all of them will be.
And if friskies lil soup is not the best meal for your cat, then don't worry. You didn't think we'd leave you hanging, did you?
Here are our recommendations for the next best food to friskies lil soups.
Merrick Bistro Canned food
Merrick's all wholesome and irresistible bistro canned foods are some of the most selling brands.
Even the pickiest cat food experts will like its highly digestible recipes, which start with deboned meat, fish, or chicken for superior protein and outstanding flavor.
Each recipe contains a lot of omega-3 and omega-6 fatty acids, which are essential for good skin and super-soft hair. Choose between choices for grain-free or balanced grains.
This grain-free chicken dish is full of antioxidants and omega-3 fatty acids for general health, as well as lots of protein to maintain strong muscles if your cat likes wet food.
Rachael Ray Recipe
The primary ingredient in this food is chicken, making it a premium pet food. Vegetables and poultry raised on American farms are also included, in addition to taurine.
Each package contains a 14-pound bag of moist cat food that consists of nutritious brown rice, vegetable, and necessary vitamins, minerals, and amino acids from beet pulp.
It is an excellent form of fiber that naturally contains prebiotics that assists a healthy digestive system.
Small kibble retains the taste and crisp, crunchy texture while being simple to take in and chew.
Additional chicken by-product meal, fillers, ground corn, wheat, or soy components, as well as flavors and preservatives, are not present.
Wellness Complete Health Canned Cat Food
In a dish that is grain-free, nutrient-dense, and high in antioxidants, taurine, vitamins, and minerals, Wellness uses chicken as the primary ingredient in this meat. In addition to salmon and trout, this wet meal is grain-free and contains fruits and vegetables.
To guarantee that your cat receives the finest nutrition possible, they exclusively utilize premium, animal meats in their items and do not include any colorants or additives.
You may be confident that such a cat food is the best available since it contains 80 percent animal products and up to 54 percent protein, based on the formulation.
The important component of this moist cat food is the precise mineral balancing to prevent the formation of stones, sludge, and crystals in the urinary system.
Because it is a wet meal, this cat food likewise promotes a cat's more natural water consumption. Win-win for your cat.
If you want to know about the comparison between Friskies and Fancy feast we got you covered.
Conclusion
In conclusion, are Friskies lil soups good for cats? There are multiple reviews to this statement, and we've put down the facts in this article to help you decide for yourself.
Majority of lil soups flavors are suitable for cats with some minor drawbacks. However, there is one flavor that should be avoided, the dreamy chicken mix.
It does not have the best ingredients and has proven to be harmful to many cats in the past.
Some good flavors are the friskies, lil soup, sockeye salmon and flaked chicken in tuna.
Other than that, we also have some alternatives to friskies that you may be interested in, in case friskies lil soups are not good for your cats.
Finally, we advise you to seek a vet's help when choosing a new food. It is the best thing you can do for your cat's health while you're at a cat food hunt.