If you have had a cat for a while, you probably know about two of the biggest names in the cat food industry: Purina and Royal Canin. Both of them are equally competitive, have food that cats usually enjoy, and do not have a lot of differences in their food compositions. But nevertheless, one of them has some advantages over the other.
In this article we will be doing a detailed analysis of pros and cons of both Purina vs Royal Canin. This will help you choose the best option for your feline friend and its dietary needs.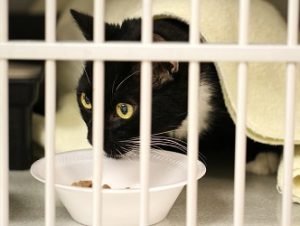 Pros of Purina Cat food
Based on our research, the pros of Purina cat food across all its categories are fewer than Royal Canin.
It is important to keep in mind that Purina has many other brands like Friskies, Purina Pro, Purina One, but only some of them may fulfill your cat's nutritional needs.
Let's take a deeper look into the benefits first.
Uses natural ingredients
Purina uses a lot of ingredients that are organic in nature. If you are not aware, organic products are the best for your cat's health.
Processed meat and other similar ingredients only cause long-term issues in your cat, so from this perspective Purina has been doing well.
Moreover, Purina is also very transparent about every ingredient it uses in its cat food, so you know exactly what you are feeding your cat, which is a good thing.
Has budget cat foods
Friskies is a very famous budget cat food brand for cats. Most of you may know it in comparison to fancy feast, which is a competitor to it within Purina's umbrella.
But the good thing about it is that Purina caters to a much wider audience with these price ranges.
You will find all price ranges from low to high in the cat foods category. And even in these you will see that there is a wide variety of flavors.
Purina will always have a plus point in this aspect.
Cons of Purina Cat food
The pros are all good, but the cons can not be ignored. It is important to evaluate both sides so we can give you a clear picture.
Can have low quality ingredients
The biggest problem with Purina is the low quality of ingredients.
Yes, we said above that they use organic ingredients, but the quality of those organic ingredients is quite low.
The upper tier Purina brands are still better, but Friskies is well-known for its bad ingredients.
Some ingredients like meat by-products, corn and gluten are quite commonly used in most of its flavors. This is why they are not really recommended if your cat already has diseases.
Has a lesser variety of flavors and products than Royal Canin
Purina does have a lot of yummy flavors that your cat will surely like, but since we are comparing it with royal canin cat food right now, they are not as much.
You will find a wide range of flavors that have different proteins for your cat for a change like fish, turkey, chicken, beef, and even mixed seafood.
There are also some flavors intended for hairfall and other things, but can be bought with a vet's prescription.
Below are some of the good Purina foods that are good for cats.
Purina cat foods that may be suitable for your cat
Purina Pro Plan Savor Adult Chicken & Rice Formula Dry Cat Food
This dry cat food includes a good amount of protein from the chicken and a moderate amount of carbs from the addition of rice.
It does contain some gluten and processed corn ingredients like other Purina brand foods, but not as much as Friskies, another purina brand.
There are also other forms of protein like beef and liver in this food, so this is good cat food for your cat, in terms of the purina brand.
Purina Pro Plan Adult Shredded Blend Salmon & Rice Formula Dry Cat Food
This flavor of Purina Pro has some good ingredients incorporated into it. It also works really well for indoor cats, and the salmon gives your cat ample amounts of protein as well.
Other aspects of this meal are also quite balanced, and it has many cats' favorite flavors as compared to other purina brands.
Do make sure you contact a vet before completely switching your cat to this meal.
Pros Royal Canin Cat Food
Next up, we have Royal canin cat food. This is a famous brand for cat food and is known for its good cat food.
Let's look at some pros and cons of this brand of cat food.
Well-loved cat food brand
As important it is to make sure your cat gets all its nutritional requirements from food, it is equally important that your cat actually likes the food.
If it does not like the food, it will not eat it no matter what you do. There are many things that will get a cat to like a certain cat food, and well, royal canin has got it!
Both cats and cat owners are mostly satisfied with this brand.
Has special foods for cats with diseases
One of the best things about royal canin is that it makes the food tailored to a specific disease in cats.
This works great because 1) you do not have to scramble through the ingredients in different foods to find a suitable one, and 2) you know that the food is perfect for your cat's condition with no doubt.
Each food intended for this use is vet-certified, so that is of course, a bonus.
Some cat foods for specific diseases are gastrointestinal disease, Renal support cat food etc. All these are known to work really well with cats.
Does not use low quality ingredients
Unlike Purina, Royal Canin uses some good quality ingredients in its cat food. You can read everything on the label and see what your cat is eating exactly.
Ingredients are organic and the food goes through a quality check to ensure everything is up to the standard.
The quality of ingredients is justified by the price, royal canin has a high price so you would naturally expect them to serve your cat good food.
Cons of Royal Canin Cat food
Considering all the benefits we stated above, there are still some drawbacks to Royal Canin. It is up to you to see if they will be a deal-breaker in your hunt for good cat food.
High in carbohydrates
While the quality of ingredients is good, the amount of carbs present can nullify the long term benefit.
Royal canin cat food contains a lot of carbs in the form of grains and rice too. Not in all the foods, but you need to be careful in what you pick.
Ideally, a cat food should have 10% of carbs only, depending on what food you pick (eg. medicated cat food).
Price is quite high
It's not a surprise at this point as we have mentioned it above, but royal canin is more towards the expensive side.
They do not market themselves as a low budget cat food, so of course that is expected.
However, they provide the quality of ingredients that you would want in a cat food. If you get all that you need, but at a bit of a higher price, it's a win-win situation right?
Hence, if budget is not the issue for your feline friends dietary needs, you should go for Royal Canin.
Royal canin cat foods suitable for your cat
Royal Canin Feline Health Nutrition Weight Care Dry Cat Food
We mentioned that one of the drawbacks of Royal Canin is having way too many carbs which causes obesity in cats.
This cat food is made specially to combat this issue, overweight cats. If your vet recommends that you feed your adult cat a low calorie diet, then this royal canin food is just perfect for it.
It deters diseases like skin problems, gut diseases and even renal and liver problems.
Royal Canin Feline Health Nutrition Indoor Adult dry cat food
Specifically intended for indoor cats, this cat food is good for your cat because it has a balanced composition.
Quality of ingredients is quite good as well, and the amount of carbs is also lower than other royal canin cat food.
Hence, chances of obesity are also low.
Conclusion
In conclusion, if it were Purina vs. Royal canin, which should you choose?
The answer is simple, Royal Canin. Purina and its brands are all great, buy Royal Canin simply has a better reputation for most things in the market.
Quality of ingredients, dietary composition, and the taste appeal is what makes royal canin better than most of the brands out there.
It also has the different types of medicated cat food options available, so you do not have to look through different foods if your cat has a specific condition.
Rest assured, it is best that you consult the vet for any dietary changes in your cat. He or she will recommend the most suitable food, be it purina or royal canin, which will encompass all your cat's dietary requirements.