Is your cat addicted to temptation treats? Are you worried that temptation treats are killing your cat? Treats are usually given to cats to improve your bonding with them. However, using them excessively can cause health problems in your feline friends. But do all kinds of temptation treats start affecting your cat's health?
The following article covers all of the necessary information needed to help your cat live a healthy life. We will also suggest some other alternatives to temptation treats later in this article.
Let's get started.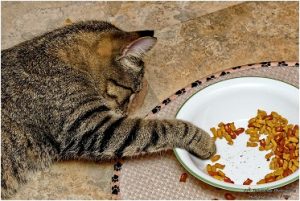 Are temptation treats killing your cat
Temptation treats are widely used by cat owners to train their cats and give them a reward. In fact, they may just be too widely used, which is why this issue needs to be addressed.
A lot of cat owners are not aware that treats like these may be a reward for their cat for the time being, but a curse when it enters its body.
While the short-term effects are not very visible, the long-term effects can include kidney and renal failure, ultimately leading to death.
It is possible that your cat may start getting sick very often after you feed it these treats. The chances of it dying significantly increase if you don't immediately look into the cause of its sickness.
Now, this does not mean that temptation treats will affect every cat the same way because each cat is different. But it is always best to consult a vet specifically for your cat's situation.
If your vet does not recommend temptations, there are many alternative treats you can feed your cat.
Reasons temptations treats are killing your cat
Here are some reasons temptations treats maybe killing your cat. Only some of these may be affecting your cat, but some of these can grow to be very serious and take your cat's life.
Hence, it is important to seek medical help as soon as you see signs of a disease or problem.
Take a good look at these:
Addiction to cat treats
Not all cat treats are harmful but for that, you need to make sure you feed your cat the right ones.
You may have heard that anything in excess is bad for you, which applies here in your cats' case too exactly.
Addiction to temptation treats not only makes your cat physically unhealthy but also makes the cat mentally distressed.
That's right. Too many tempations treats are known to cause severe behavioral issues in cats.
This can be in the form of aggression, fights with other cats, and other behavioral issues. Mind you, these issues are easy to fix and may require lots of medication and therapy.
So if you want to avoid losing your cat to these, it is best that you do not let your cat get addicted to them.
Problematic ingredients
Temptations treats mostly contain ingredients such as carbohydrates and low quality meats.
While these seem attractive to cats, they are quite for its growth and body. Younger cats should specially be avoided giving temptations treats for the same reasons.
Your cat may get diarrhea if these treats happen to cause any complications in the body. In adult cats it is also possible that the change of treats caused the diarrhea. If that is the case it should be well suited to temptations in a few days.
However, diarrhea is never a good sign for a cat, so it is always best to give your cat treats that do not adversely affect them in any way.
Loss of hunger
Too many treats will interfere with your cat's appetite and affect its normal meal. It can also lead to a long-term nutritional imbalance and this is something you want to avoid.
Temptations treats can make your cat feel as if it is full, even when it is not. This means that it will not eat its regular food and is unable to get its nutrition from it, simply because of the treat's content.
Your cat will not receive enough protein and fats for a healthy life.
Hence the cat will be lazy, and maybe even start vomiting or have diarrhea, and it won't be as hungry for her usual meal times.
This is why you should try different treats or wean your cat off the treats as soon as you can.
Digestion problems
Cat treats are really high in calories. They are known to cause gut issues in cats too over the long term period.
Obesity is one such issue. Because of the high saturated fat content, and low activity of your cat altogether, obesity can become a big issue.
Feeding it excessive temptations treats can create digestion problems too. Vomiting and diarrhea may become a common problem for your cat if this happens.
However, there is an easy fix for these problems. You can wean your cat off temptations treats and stick to a high-protein diet.
[H2]Alternatives to Temptations cat treats
The following cat treats and cat foods are the best alternatives to temptations treats as they contain good quality ingredients which are good for the cat's health.
We would advise you to consult a vet before you switch your cat to these, or in fact any treats.
[H3]Dreamies Cat treats
Dreamies cat treats are the best treats out there at the moment. They are available in chicken, tuna, and salmon flavors.
They actually use good sources of protein, so this cat treat is beneficial for your cat.
However, like any other cat treats these should also be given in moderate amounts as excessive use of treats can bring long term health issues for your cat regardless of whether it is good for your cat or not.
Purina Dentalife Cat treats
Purina Dentalife cat treats as the name suggests is a 2 in one mix. So not only are you giving your cat a reward for whatever, but also keeping its dental hygiene in check.
This is especially good if your cat will not let you anywhere near its mouth. The treats are delish as well it will have no problem eating them.
It is available in chicken and salmon flavor and no meat by products are added unlike other of purina's brands.
Dentalife treats are also a good source of calcium, taurine, and helps with your cats immunity as well.
Vital Essentials Freeze-Dried Minnows Cat Treats
These freeze-dried treats are a seafood lover cats dream. If your cat likes fish, it will go crazy over these treats.
It has no meat by-products added and are small and feast-able in size so your cat will love to chew on them.
Oh and they're freeze-dried so that is also something that will attract your feline friend.
Rich in protein and natural ingredients, this fishy treat will be your cat's new favorite in no time.
Conclusion
So in conclusion, treats are an important part of owning a cat as you can reward them for every small accomplishment they make.
However, treats are attractive to cats as they contain different unhealthy ingredients that are not good for cat's long term health.
Treats should be given only when your cat has accomplished some task as the sense of reward for the cat does not deplete.
There are a lot of negative reviews about temptations treats
If you want your cat to be happy and not face any illness, it is recommended to go with the safest bet, which is another well-known brand that we've mentioned above.
Some reasons why temptations treats may be killing your cat is that it can cause loss of hunger, digestion problems, and contains harmful ingredients for your cat.
So in short, temptations treats specifically should be avoided for the sake of your cat's health.
Wish your cat good health!