As a cat parent, feline food is always on one's mind. What to serve and how to keep the quality intact. No matter how healthy you want the cat to be. You end up buying commercial food. Homemade would not fit in your routine. While your hand pick some brands and like them. There are a few that stands out and few that fail. But we are all here to reveal the story of Dr. Marty Cat Food Exposed.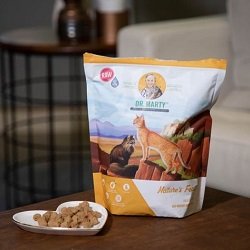 An introduction
So here is the rating that has been produced as per user experience or online data available. We shall be giving it points, ranging from 1 to 10. 1 being lowest and 10 being highest. Talking of variety the food offers hardly any thus gets a four here. The price that kind of attracts the customer is between feasible to priced. And it gets a sixin this. However, the quality has been fine with an eight to it.
Thus, the customer experience stays at eight out of ten. The one thing that is critical in the food quality and is a real judge of the brand is recall history. The brand surprises withnothing on doccument. Which means it has been reasonable with this. And overall it stays under seven in terms of brand experience.
It is an optimal product with average product quality. People have posted the results. And it has not been random. It has undergone a process, samples are withdrawn and shared in labs. The tests have revealed results and concluded their views from there.
The analytical report opens us up about the constituent. Both in terms of micro and macronutrients. It also gives an insight into yeast or mold present there. Opening on the metal content so one can have an insight into the package. Before putting it into the kitty's bowl. All can be visited online, various sites report it. While we open up on Dr. Marty and the product he has offered to the community.
Dr. Marty: A Brief Insight
The creator, the guide behind for. Marty Cat food is Dr. Marty a.k.a Dr. Martin Goldstein. He happens to be a renowned veterinarian having a tremendous experience in his field. With almost more than four decades of work with animals, and is known as a pet specialist.
He undertook a mission long ago. That is all with the idea of supporting pets and bettering their health. Animal nutrition was key to his undertaken mission. He began formulating some recipes. The main drive behind it is integrative medicine. Implying all mix and best of both traditional and alternative medicine. He tried coming up with products that could yield the best results.
If you wonder what made him so concerned about the cat's health. It came from a personal space. He was weak at the early age of twenty. Always felt the pain of an aching body and low energy. While he was suffering, he put into use all his knowledge of medicine. While he tried a couple of things. Nothing worked out for him. Until he tried his luck with the Macrobiotic Diet. He was dazzled with satisfying results. This brought it into use for the pet diet. And has been using macrobiotics since then.
He aims at restoring the health of not-so-healthy pets. He claims that you can have a fresh start and a healthy life. Starting just now and today.
Dr. Marty's Food Manufacturing And Quality
In our attempt to have Dr. Marty's Cat Food Exposed. Let us have Dr. Marty's take on the food preparation. And how they aimed at fulfilling the quality of the food package. In terms of any spec, sources of food material, process, and manufacturing techniques, he doesn't provide much.
The only thing that we can produce from the data already available is on the package. We know where the food is freeze-dried, a place somewhere in America. The address that can be extracted from the package is as follows: Somewhere in Woodland Hills, CA. Also termed as the company's headquarters.
Yet it never fails to bear the claim that they believe pets are their best friends. Believing them to be a source of constant happiness and fun. They claim they try their best to come up with satisfying quality. Promising unparalleled health outcomes.
While they do not provide any specs on sourcing or production of cat food. They do come confidently in terms of likeability. They claim to return all the money. In case the cat does not like the food. The offer holds for as long as ninety days of purchase. And that is the thing about packaged food. They never fail to satisfy the likability of the feline fellows. The smell and flavor never fail them. Besides all we have hand picked products and plan to get Dr. Marty Cat Food Exposed.
Exposing famous products of Dr. Marty's Cat Food
While we are all set for getting Dr. Marty Cat Food Exposed. Let us review some famous products it has to offer. Generally, it has a limited range but still, has some freeze-dried items, cat supplements, and otherwise cat regular treats. Both the traits of thawed food come with whole nutrients.
Dr. Marty Digestive Supplement
This is as prime as the name states it to be. Comes with a handful of serving, i.e. thirty servings per container. The recipe is served in a jar. With each serving costing around 2-2.5 dollars, it is a little hefty to serve premium quality supplements. The product is cat friendly with probiotics that help regulate the cat's digestive system.
It further helps support the oral health of cats. Comes with the advantage of mood stabilizing features. Overall allows good nutritional uptake. And overall  improves the cat's health.
Some prime ingredients would be a mix of probiotic enzymes and Lactobacillus, Acacia Gum Fiber, thallium powder, and Mushroom Extract. The protein value is 31 % serving as the highest content of nutrition. Moisture is ten percent, fat 0.1, and fiber 0.5 %.
In summary, it comes with friendly probiotics. Whole lots of antioxidants and serve digestion. But a little offsetting thing would be the price.
Dr. Marty Natures Feast Raw Food
Second, on the list is nature's blessing-filled pack. The one that serves a wholesome diet. It promises a biologically balanced diet. With wellness guaranteed in the pack. The food is served frozen.
The formula is one of Dr. Marty's special recipes with some A-class content. One is the protein source. That comes from high-class turkey, salmon, and white fish as sole providers of protein. No grains are added to the formula to fill the pack.
Yet contains some parts of veggies and fruits to provide fiber. Blueberry, flax seeds, craned berries and sweet potatoes are in it, to name a few. The cat has been tested for absolute likability. It is fed with hydration added to guaranteed Analysis Overall the pack promises 37 % of protein, moisture content of around five percent, and a fibrous content of around three percent.
Dr. Marty Squeeki's
Third on the list is the cat delight squeakis. This is also a freeze-dried food that provides some raw protein sources. Some of it comes from cats, most like salmon. That cat gets pretty big slices of meat and nothing makes them happier than this.
Understanding the carnivorous nature of cats. Bring it as an easy pick. The voluminous amount of protein serves as a real delight to the cat. It also keeps the crunchy muncyh texture to it. So the cat can savor and delight itself.
The pack overall serves as high as 47 percent of protein. With the right amount of moisture around 6 percent. A whole lot of fat is 5 % and fiber is around two.
Overall it serves as one mighty protein source. The pack is way too rich in omega three. The only negative side is the high price of the product. And that some of the protein chunks might break into small pieces when served to the cat.
Dr. Marty Cat Food Exposed: The Recall History
In terms of record. No sound data has been kept to support the recall history of the product. It is no alien to have a product recalled from the market. Some issues will be technical other than quality compromises.
Yet it is better if the work done is foolproof before letting out the brand in the market. They claim to have the quality intact and unified. With their protein source being premium. Only extracted from three main animal sources. All being either whitefish, turkey, or salmon.
Customer Review: Dr. Marty Cat Food Exposed
Let us have insight from customers that have been feeding the food to their cats. Nobody can have the real experience they have with their first-hand experience. Some of the reviews would be good, but some of them would be otherwise. We need to be rational in concluding either of them.
Positive Disclaimers
Some of the positive views have been summed up as follows:
My cat has savored the frozen chicken
The cat has enjoyed eating it as much as four times a day.
My cat has maintained its use
Some claim cats reduce fat and gain muscle with its use.
They have reported an increase in cats' appetite
The cat eats up all the food from the bowl
The thawed food is served fresh after some heating.
Negative Points
The cat is filled with energy. Yet is a lot more furious.
The cat is observed to be frustrated.
Somehow the kitty is always hungry.
I hate the food coming in the card box. The outer packaging has so much fancy packaging. While the inside is so low.
The food in the package is too little to feed for some time.
It took me hard to get the cat used to this food
While we reveal details that claim Dr. Marty Cat Food Exposed. We keep the review open and let people decide on their own. While you aim to pick a brand for your cat's diet. You ought to have a market review. Come across the user experience.
Moreover, it is good to see where the factory is located. Even better if the manufacturing process can be analyzed. But if not, the reviews can help a lot. The first-hand experience never fails you. But one has to be rational in picking the righteous brand.
Even if it's Dr. Marty's cat food, several online reviews are available. Many websites are produced. The cat parents have united on various forums, And have let out the blatant truth of each brand.
Why Pick Dr Marty Cat Food
When you switch to Dr. Marty's cat food. The package comes up with some instructions for doing so. The frozen dried food is kept in a cardboard box. Give away instructions to be followed by cat parents. It helps with
Transition to the Dr. Marty food
Feeding recommendations as per your cat. As per weight, age, and health condition of the cat.
Cat rehydration tips by recommending water quantity to be added.
Cat's health with no use of artificial content
No flavors added
No filler just the essentials to ensure a balanced diet
Only high-quality protein brought into use
While all come as per need. The price is quite some.
When tested amongst cats. The freeze-dried food per pack served in around twelve ounces. The aroma was strong. The pieces of food came as good-sized chunks. The food was lightweight. And the smell got the cat running in no time.
Final Remarks
While one is all sold to have Dr. Marty Cat Food Exposed. We are here to expose the quality it serves. A whole lot of nutrition and rotein content and easy digestion is what it serves.  But as we talk of the good features. It's hard to let go of the critical point. That it all costs heavy and might not be a choice of feline food for all.
Our piece of advice will be quality comes with a price. It is worth the premium quality of ingredients added to it. Overall it serves as a cat-friendly product. A whole lot of macronutrients and probiotics are provided. Not only as a regular diet but as a cat food supplement is also available. One can hand pick as per the cat's specification. The label happens to have weights and age specs for cats.
The food is available in freeze-dried form and can be served fresh. A little warmth can help attain it. The serving size is good. And mostly serve a good day for serving.
The artificial content is reduced as much as possible. The flavorant or the preservatives are kept at a minimum. Plus. The aroma is so tempting. Once you open up the packet. The cat will come rushing. A little precautionary advice will be to check the cat for allergies of any content. It is advisable to refer to a vet in this very case.
The brand has its head office located in America. But shares little information on the manufacturing process and unit. Still provides a money-back guarantee. But overall One can have it for cats via online availability. It is widely available through online portals. One can go for individual packs, cans, or jars. Or also go for bulk purchases. It helps save some bucks.