Has your cat got stomach problems? Maybe it has a sensitive stomach that reacts quickly to heavy food. If this sounds like your cat, then it could have some sort of stomach problem. Cats like these are advised to take Hill's z/d cat food so it is light on their digestive system and still gives them energy. But unfortunately, this cat food does not suit every cat, so what are some alternatives to Hill's z/d cat food that are safe for your cat instead?
In this article, we will look into different alternatives to z/d cat food, and when you should use each for your cat. Let's get right into it.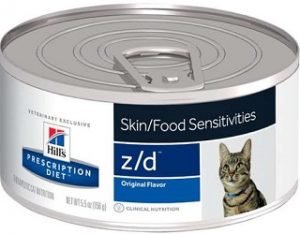 Alternatives for z/d cat food
Cat foods that are made for cats facing allergies or stomach problems are called hydrolyzed cat foods. These are commonly available almost everywhere, but to make sure you find the one most suitable for your cat, you should be aware of a few things.
You want to see that the cat food you are picking has a good amount of protein in it. It can be beef, fish, or even chicken. Some cat foods use other types of proteins like quail which is fine too.
Carbs and grains present are not that big of a problem, but the lesser they are in the diet, the better. Hydrolyzed food is intended to be simple; so only a few, but natural ingredients will do the job.
Now that you know what your cat is ingesting, let's take a look at different alternatives.
Royal Canin Digest Sensitive Gravy Canned Food
This cat food is great for cats who love wet cat food. Not only is it made with simple ingredients, it helps cats with digestion and makes them feel healthy.
A good mix of nutrients and vitamins, this cat food will also protect and nourish your cat's fur and coat. It also reduces the odor of stool, and makes it much easier to pass out of the body.
You will also notice a decrease in the number of hairballs, and a smoother digestion process overall. Some vets also say that this is good for the cat's dental hygiene.
The texture of this cat food is unique too. It contains thin slices covered with flavored gravy, so your cat may grow fond of it.
No drawbacks were noticed for this one, unless your cat does not like the flavor, or does not enjoy wet food, because it could throw up.
Purina Pro Plan Allergen Reducing cat food
Your cats' sensitive stomach is not able to retain food? Try this cat food out.
Purina Pro Allergen reducing food uses probiotics in its formula to work with the stomach bacteria to thoroughly digest it.
Turkey is the main source of proteins present in this cat food and there is also oatmeal which is present in balanced quantities so it works.
There are ample omega 3 fatty acids and vitamins incorporated within the formula to provide your cat the ultimate nourishment.
The egg extracted protein is great for your cat too. After a couple of days, you will start to notice better health in your cat and activeness as well.
However, with no added colors and additives, this cat food is a bit more on the expensive side, so do consider this while deciding on a cat food.
Crave grain free high protein cat food
Crave grain free cat food is made with a high protein content (as can be seen from the name), and is only intended for adult cats.
Counted as one of the cheaper options among others, Crave grain-free cat food has all that your cat needs to live and breathe healthily. A good content of carbs gives your cat's muscles energy, and makes its immune system healthy.
You will find no artificial or harmful products added to this cat food. Corn, soy protein, and wheat are all excluded, making this a natural and organic meal for your cat.
Needless to say, this composition also aids with digestion, so you will notice ease in passing stool.
If you like the formula for your adult cat, you can try a special one for your kitten made especially for younger cats. Ask a vet first though.
Natural Balance Limited Ingredients diet
Natural Balance Limited ingredients cat food is common at many stores. It is also budget-friendly, but it does not have all the properties you would want in a hydrolyzed cat food.
Instead of the regular proteins, you have a duck as the main source, and for carbs you have green peas, and that's about it. There is no source of fiber, which is great for the smooth passing of food in the digestive system. But this formula is created in a way that the toxins in your cat's stomach and intestines get washed out, without needing any treatment.
The food is also grain-free, so that counts for something if your cat is not used to grains in its diet.
Evanger's Super Premium Rabbit and Quail dinner
Evangers premium Rabbit and Quail canned cat food is loaded with vitamins and minerals your cat needs.
It is cooked well, so no chewing and digestion problems, and there are no preservatives present which make it a great healthy option.
With two types of proteins present, it will enrich your cat and provide it energy to go about its day with ease.
However, if you are cutting down on meat because of allergies or stomach problems, this may not be the best option for your cat.
Always consult a veterinarian for advice before switching to a new type of cat food.
Instinct Limited ingredient grain free diet
Is your cat a picky eater and also has a sensitive stomach? It can be a nightmare to feed it any food.
But you should give the Instinct Limited Ingredient diet a try, your cat may like it. With a protein choice of Rabbit, this cat food is the complete formula for your cats daily needs.
There is no addition of beef, poultry, dairy, potatoes, and other ingredients that are not so good for cats. The flavor is good too, so your cat may just want to stick with it.
Hence, the chances of any allergies occurring significantly decrease, making your cat healthy and happy.
Blue Buffalo Natural Diet hydrolyzed
Blue Buffalo is a reputable brand that suits cats' needs in different ways. One of their famous cat foods is the Natural hydrolyzed diet, which is especially for sensitive stomachs.
It does not contain any harmful ingredients like corn, soy, chicken, and wheat. There are no artificial preservatives, and an abundance of omega 3 fatty acids and probiotics makes this food really good for cats.
Needless to say, these ingredients also heal the skin and coat of your cat, so that is an added benefit of this diet switch for your feline friend.
Homemade hydrolyzed protein cat food
If you find that none of the options suit your cat, or if you just want to cut costs and make stuff at home, there are countless recipes available to make hydrolyzed protein cat food at home.
If you do this right, this should be great for your cat energy and composition-wise, and also be really light and healthy on its stomach. Natural ingredients will help clean out its digestive system too.
Following the mini-guide about what you should look for in alternatives to z/d cat food, you may get an idea of the proportions you need to use.
The best part is that you can add ingredients that your cat actually enjoys, so it can stick to one meal for a long period of time and get used to it.
It is best to make and store the hydrolyzed food, so when your cat is feeling hungry you do not have to make it from scratch again.
You can consult a pet nutritionist to double-check the nutritional value of the food you make.
Conclusion
In conclusion, what are some alternatives to Z/d cat food?
There are many alternatives to Hills Z/d hydrolyzed cat food. You must look for food that is easy to digest.
Substitutes can be royal canine digest sensitive food, purina pro allergen reducing cat food, and Crave grain-free high protein cat food.
These cat foods are some of the closest you can find as compared to z/d cat food.
Other than that, cat foods like Natural balance LID, Evanger's Super premium cat food, and Instinct LID are good options too and come in a close second.
Lastly, there is the blue buffalo natural diet. This is a famous brand that also has hydrolyzed food available for felines.
If none of these suit your cat or you just want to try something new to suit its sensitive stomach, you can always make homemade food for your feline friend.
This will be light on its stomach and not contain any harmful chemicals, so that is amazing.
Finally, we would advise you to consult your vet before sticking to one food diet. If you are making food at home but are concerned about the nutritional value your cat is getting, you can consult a pet nutritionist.