If your cat loves going outdoors, it is really convenient to install a cat door for it to come in and go as it pleases. Especially if you have multiple cats in the house, every cat may want to leave the house whenever it wants, so a door may be a necessity at this point. There are different types of doors and each door is made differently to suit the needs of your cat. If your current cat door is not performing its function well, here are some cat door alternatives you can look into.
But first, let's look at the different types of cat doors and how you can choose the best one that will suit your cat's needs.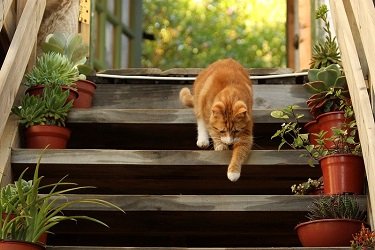 Types of cat doors you can get for your cat
Depending on your cat, you can and should get a cat door to suit its needs. Luckily, in the modern era, there are many alternatives to choose from, and there are also technology based doors available which are really efficient.
The first and most common type of cat door is a cat flap door. These can be as simple as a plastic flap installed in the door and your cat has to manually push through to let itself out.
You can make a hole big or small enough to let your cat pass through, but there always remains a chance that other animals may get through, so that can be a security concern.
Next, we have the locked cat door. This one has options for you to set a position of the door in a way that your cat can pass through.
You can keep the door fully open (vertically open), and keeping sideways open is also an option. You can also lock it to hinder your cat from leaving the house at certain times.
Lastly, we have the electronic cat doors that we talked about. These are the fancier versions of the flap door and lock doors. Some of them may have sensors installed and can open and close based on the chip in your cat's collar.
So based on what you think is best for your cat, you can now choose the best cat door alternative for your cat at home.
Best cat door alternatives for your feline friend
Now that you know exactly what type of cat door you are looking for, let's take a look at some alternatives you can install in your home.
Freedom Pet pass insulated cat door
This cat door is perfect for colder regions where an uninsulated cat flap door will cause the cold to enter your home.
If you live in snowy areas, this issue can cause an increase in your heating bill. The Freedom Pet pass, as the name suggests, allows your cat to leave the house and come back as it pleases and it also keeps the place cold out, which is great.
Other than keeping air outside, this cat flap door is very normal with a locking facility. The pros of this door can be that it is great for harsh climates and that it should last you a good couple of years.
However, it is a bit on the pricey side, so if you are not in for that, there are other options you can look into.
Purrfect Portal Meow Manor
This portal door has a convenient design for cats and is great for when you want to keep your other pets inside the house while simultaneously letting your cat outside.
It also has the option to lock the door in place, so if you prefer to keep your cat inside a certain room or outside, you can balance the flap door and lock it in place.
Many cat owners believe that the look of the door could be better because some cats awkwardly bend to get themselves through the door.
But if you have a small cat, then you do not need to worry about this issue. You can also always adjust the placement of the portal on your house door to fix this.
Some benefits to the purrfect portal meow manor are that it gives you great control over how often you want your cat to leave, it is relatively easy to install, and the design is also convenient for cats.
On the other hand, larger cats can be a bit uncomfortable while bending, but this is not always the case.
Sureflap DualScan Microchip cat door
Are you paranoid about other stray animals entering the house along with your cat?
Well, if you install this microchip door for your cat, you will not have to anymore. Sureflap Microchip door uses electromagnetism to open and close itself whenever your cat wants to pass through.
It does this by using a microchip that is installed in your cat's collar. So when your cat comes close to the door, the microchip will get scanned, let the cat inside, and then close the door again.
It also has door locking features as well, in case you want to keep the door open instead of permanently closed.
Some positive things about this product are that it uses a pair of batteries that will make the product last for about a year.
It is also an adjustable door and will provide many angles for door opening and closing.
However, it may not be suitable for big cats and you will also need to use batteries separately as they are not included.
Cat mate 4-way self lining door
The 4-way in this product stands for the door locking in 4 directions for ease of the cat. You can lock and unlock the door in whichever direction you want to facilitate your feline friend.
The best part is that you can change the door settings to only allow the cat inside but not go outside. So if you want your cat to come back inside at night time but not go out again, simply change the setting to that.
While it does not have the greatest insulation, it does have a quick and magnetic close. This will keep the door shut during storms and also as soon as your cat enters inside.
Some good things about this cat door are that it has 4 directions of locking options, is made of good quality, and is quite affordable.
However, it is not the best for harsh weather and some adult cats may be able to learn the trick to opening the door if you do not lock it.
Purrfect Portal XL door
This cat portal is meant for larger adult cats and it does not have a door attached to it.
It works well for indoor cats as there is no portal to stop the winds and debris from entering the house.
The purrfect portal can also let some small dogs though, so you should not get this if you want your dogs away from a certain room in the house.
Other than that, it is pretty easy to install and lasts you quite a while.
Some good things as to why you should buy this cat door are that it is really durable. Can easily allow large and fluffy cats through without getting stuck. It is pocket friendly which is great.
On the other hand, there are no flaps so it is not the best option for outdoor use.
OwnPets screen door
Some cat owners do not want to make a hole in their door for a cat door, but also do not want to open the door for their cat each time it wants to go out.
There is a simple fix for this. OwnPets screen door is made for screened windows and has features of a basic magnetic cat flap door.
It is not the most advanced cat flap door, but it does have locking properties and is very durable in nature.
Some of the winning features of this product are that it is appropriately priced as compared to its quality, it is better than other brands, and is great if you do not want to ruin your door with a huge hole.
Unfortunately, features are a bit limited and it only works with screen doors, which may not be what everyone is looking for.
Final Thoughts
So in conclusion, in this article, we have mentioned some top cat door alternatives that you can use for your cat at home.
If you know what type of cat door you should choose for your cat (basic flap door, lock door, or electronic door) then going through this list of products will help you.
The best option of cat doors that many cat owners vote for is the Cat Mate 4-way Self lining door.
Now, this does not mean the same will be best for your cat. Every cat has different needs and depending on how often your cat will be using the door, you should choose accordingly.
Finally, don't think too much! As long as your cat has no problem going in and out of the door even if it is while crouching, then there is no issue.
But hopefully, with the guide we have provided, you should be able to find the perfect cat door for your feline friend!