Feline infectious peritonitis virus or FIP is a disease caused in young kittens when they spend time around other kittens in shelters. It is a fatal virus and in most cases, there are not many treatments that will benefit the kitten. Fip is not very common, but when it does occur, cat owners are suggested to euthanize their cat. So what signs should you stumble upon before you decide when to euthanize your cat with fip?
In this article, we will go over the set of signs that show your kitten may need to be euthanized, as well as other helpful information about cats with fip.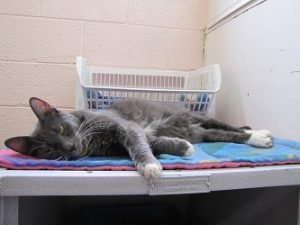 What options do you have besides euthanasia if your cat has fip?
If your cat has fip, there may be a few things you can try to prolong its lifespan before sticking with the last resort.
Some cat owners are recommended to give steroids to their cats. These are given in tablet form and are meant to put a stop to any infections and feverish feelings in your cat.
They can also be substituted with certain antibiotics, but not without a vet's prescription.
Alternatively, vitamin supplements like Vitamin A, B, C, and E are also given to the affected cats to provide nourishment.
While all these are effective options to try to keep your cat from euthanasia, they do not guarantee any concrete results.
In recent days, vaccinations against cat fip are also being developed and tests are being conducted.
Therefore, not too long in the future, your cat may be immune from this fatal disease.
So what signs should you know to confirm that your cat with fip has to be euthanized?
Signs that your cat has to be euthanized
We know this is the last option, everybody loves their feline friends. But in order to make the best decision for your cat, you need to be able to look at the signs.
These signs will influence your decision about when your cat with fip needs to be euthanized.
Genetics of cat have a long line of fip affectees
Genetics plays a huge role in what the cat is going to face in its life. Just like humans, many diseases that we get later in life are inherited, fip's root main probable cause is also genetics.
It is said that there is a 50% chance of a young kitten getting the disease if its ancestors had it first.
This does not mean other factors do not play a role. Around 40% of the job is done by triggers in the cat's environment such as transmission from other cats and staying in a crowd.
If you adopted a cat or simply got one from the shelter, chances are that you don't know about the cats' bloodline.
So if your cat does get fip, you can get a checkup, and if the results of the tests are negative (ancestors had fip), then this will help you figure out if you need to euthanize it.
Cat lives around other cats
Cat fip is caused because the cat has remained part of a crowd and happened to get affected by another cat.
If this happens, you want to keep the other cats safe from the deadly problem, right?
But if there is a large number of cats, how do you separate the cat with fip from the others?
The answer is, it is difficult to. It is not easy to pinpoint one cat among others and quarantine or euthanize it.
What you can do is avoid breeding the cats, so there is less chance of transmission of fip.
Remember when we said that a big reason for catching the disease is genetics? So even if some cats are exposed to fip, their genetics will ultimately determine if they will be affected.
Hence, there is only so much you can do to keep each cat safe.
However, if you do manage to narrow down which cat has fip, then the best option is to euthanize it because keeping one cat separate from others till the end of its life is usually not possible for many cat owners.
Low immunity of cat
Cats that have low immunity and are less likely to survive with fip. Immunity is natural, but there are ways you can improve your cat's immunity by using different types of food.
However, this again does not guarantee an increase in lifespan after fip, and this factor often causes death in kittens with fip at a much younger age.
Other than this, if you know beforehand that your cat is susceptible to diseases and has weak immunity, you could consider the decision of euthanizing it sooner.
Means of treatment do not work for the cat
In fip, all means of treatment are just a race to keep your cat alive the longest. This means that there is a great chance that the medications prescribed may not work.
If this happens, there is an option to increase the dosage and change the diet plan for your cat, but usually, these methods don't last very long for cats either.
Consult your veterinarian, and if all practices go in vain, then euthanizing your feline friend may be the best option you have.
Signs that your cat does not need to be euthanized yet
Even though the above signs are usually very common in cats with fip, there are a couple of things that will tell you that your cat may not need to be euthanized yet.
Stay on the lookout for these signs in your cat:
Cat looks and behaves normally
As the subheading suggests, if your cat behaving completely normal and shows no signs of fip, then chances are it is okay.
There can be two possibilities, one, that the cat is projecting that it is fine and hides it so well, but after a checkup, you find that it is indeed affected with fip.
The other possibility is that it is actually fine, with a few minor symptoms, and you've just started the medication.
As long as your cat is living a healthy lifestyle, and you get regular checkups from the vet, there is no need to euthanize it.
Also, this is a rare scenario, cat experts suggest that it is often not that difficult to figure out that your cat has fip. So do not worry too much about it!
Treatments seem to be prolonging the disease
If you see that the medications and the change in diet plans seem to be working for your cat and making it healthier, great!
This just means that your cat may just live a longer life than its expectancy, and you can enjoy more time with your feline!
It is still important to make monthly visits to the vet to keep your cat healthy and thriving for as long as possible.
Conclusion
In conclusion, when do you know that it is time to euthanize your cat with fip?
Most of the time your vet will suggest that you euthanize your cat as soon as you can because fip does not have a proper cure.
Mainly because genetics play a big role in the transmission of the disease, there is not much medicines can do to keep your cat alive for long.
That said, there are still certain measures you can take that may prolong your cats' lifespan.
As a cat owner, you should stay wary of the signs that show that your cat may be in pain and needs to be euthanized, as well as signs that show otherwise.
And look, as a friend to your pet, we know how hard it can be to process the thought of euthanizing. Just remember that it is for your cat's benefit and you want it to be pain-free.
And also the decision for bladder cancer euthanization  is upto the pet owner but our article would give you some insight.