Properly managing your cat's cat litter system can be a tough chore. Any leaky buckets and your house could be smelling unpleasant for a long period of time.To minimize this concern, many cat owners use tidy breeze pads for their cat litters, but they do not find it to be the best option. Which brings us to a very commonly asked question, what are the best tidy cat breeze pads alternatives?
In this article, we will list down the various options of tidy breeze pads that you can use for whatever reason you like. So let's get right into it.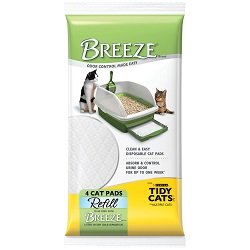 Things you must consider before buying litter pads
Before you go into the pet store and grab the first pack of litter pads you find, it is important to know what you should be looking for.
If you can distinguish between the good and average kinds of products, both you and your cat will be at peace. So what makes a litter pad good and long-lasting?
The first criteria is to look for odor control pads. These will be a lifesaver and keep your place smelling fresh.
Next, the size of the pads and their absorbency is important. A large absorbent pad is vital to give your cat proper space and poop comfortably.
You also want to get the ones that do not clump. Gel pads are best for this, and they are also less costly, which makes them better than tidy breeze pads.
So even though tidy breeze pads have many of these features, there are other alternatives you can use.
Alternatives to tidy cat breeze pads
Below we have mentioned the best alternatives to tidy breeze pads. Make sure you look at what is the best for your cat based on our guide above and your cat's preference.
Peritas Cat Pee Pads
The first one is Peritas Cat Pee Pads which are available in large sizes and contain 5 absorbent layers within a single pad.
It claims to be a very light material and lasts about 3-4 days for a single cats' use. With around 30-50 pads in a single pack, they should last you for quite a while even if used frequently.
They are also cheaper than tidy breeze pads, so that is a plus.
PetsWorld Cat Litter Pads
PetsWorld litter pads come with a similar 5 layering pad that is super absorbent just like the Peritas Pee pads.
However, it has an added benefit of an inch-long plastic liner which is made to prevent unexpected leakages.
They also come in a pack of around 1200 litter pads! That is sure to last you a very long time, considering each pad lasts about 3-5 days per cat.
PetsWorld Cat litter pads are also recommended to be used with litter mats, not litter boxes, so this can be a drawback for many cat owners.
All Absorb Cat Litter Pads
All Absorb Cat litter pads are some of the best in the market.
They too, contain 5 layered thin pads that have close to no chance of leakages occurring, provided you change them within a week of use (which is plenty of time!).
This brand of pads is a proven product as the idea is derived from their popular puppy training pads pack.
Also, their absorbency has increased by 50% since their previous model, and this one is said to absorb about 4 or more cups of liquid!
The bottom of the pad is also slip-proof, so if your cat is being fussy, it should not affect the pad at all.
With all these features, All Absorb Litter pads seem to be great for someone who only has time to change the litter once a week.
ValuePad New Plus Carbon Cat Litter Pads
This brand of cat litter pads has the usual 5 layers, but instead of regular leak-proof layers have a sort of activated carbon innovation that neutralizes all kinds of smells and unpleasant odors.
Moreover, it is super lightweight even when completely filled up, which is the best part for your cat.
With a polypropene back strap, extra leak protection is provided and this should keep your cat good for the next 4-6 days.
It also keeps your cat's safe space free from ammonia smelling waste, the pads are available in large sizes too.
Valuepad Plus come in a package of around 100 pads and they are a little cheaper than Tidy cat breeze, but comparatively a little less absorbent, so you should choose accordingly.
They are, however, one of the best options if you are looking for budget friendly pads.
Peritas Activated Carbon Cat Pads
Similar to the Value Cat pads above, Peritas Carbon pads will be great for reducing all sorts of odors.
It also comes from multiple layers, and each layer is coated with carbon to provide the same neutralizing effect.
It is super quick to absorb any leakages and a single pad can last your cat up to 4 days.
Even though it is available in a handy pack of around 40-60 pads, it is not as absorbent as the ValueCat Plus, so you may have to change the pads more often which can be costly for you in the long run.
Amazon Basic Cat litter pads
These cat pads are made to compete with the tidy breeze cat pads.
You will find that they are about 45% cheaper than tidy breeze pads, and they offer almost the same amount of features.
They come in a pack of 40 pads and can last you about 2 weeks maximum.
Displeasing odors will be a thing of the past, and a quick drying feature is something that distinguishes it from the many other cat pads out there.
Moreover, they also come with an extended border that will provide extra protection in case your cat faces any unexpected leakages.
All Kind Cat Litter Pads
All Kind Cat litter pads are made in China and contain the same 5 Layer absorbency capacity. They are odorless, dry fairly quickly, and will keep your cat set for the next 3-4 days comfortable.
Comes in packs of 20-40 litter pads, these will turn any liquid into gel at a much lower cost than tidy breeze pads.
So you get the whole tidy breeze package at a fraction of the cost? And it will last you way longer?
A great option to stack up litter packs too if you do not want to purchase over and over again.
Final thoughts about the best cat litter pads
So now that you are aware of the different types of cat litter pad alternatives to tidy breeze pads, which one is the best?
In this article, we have shared many products including their positives and negatives to help you decide which will be the ebay for your cat.
If you are looking for more budget-friendly cat litter pads, then you can look into buying ValuePad New Plus Carbon Cat Litter Pads and Peritas Cat Pee Pads, as these provide good enough absorbance as compared to tidy breeze pads.
But if you want the same features as tidy breeze for a slashed price, then Amazon Basic Cat litter pads will be a great option for you. But again it depends on the type of needs your cat has.
Other than this, the tidy breeze pads are part of the whole tidy cat litter system, it is worth considering if using alternative pads will affect the system, so make sure to do your research.
Absorbance is key for choosing cat litter pads, as this will determine how long your cat uses the pad without needing to get changed.
Besides, there are options we mentioned above that come in large packs of 100, so they should be able to last you a long while even if your cat uses a lot of pads.
And if you are looking for alternatives for tidy cat breeze pellets we got you covered.
Finally, choose what your cat feels comfortable with! There is no point choosing the cheapest and most absorbent if your cat does not like or use them.