Gastrointestinal problems in cats call for a change in diet. Many vets recommend switching to a Royal Canin Gastrointestinal food as a viable option because it is light on your cat's stomach. But unfortunately, this solution does not suit every cat, so many cat owners go looking for alternatives to royal canin gastrointestinal food. If you are one of them, keep on reading, because in this article we have mentioned many alternatives, as well as pros and cons of feeding these cat foods to your cat.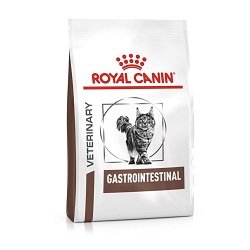 Alternative to royal canin gastrointestinal food
Picking alternatives to gastrointestinal can be a bit tough because you need to be wary about the right nutritional levels your cat needs to fulfill its diet.
Therefore, you should talk to a vet beforehand so you know what to look for when going shopping.
Some cat owners also look for alternatives because this food can be a bit expensive, especially if you intend to use it for a longer time period. While the reason for this is good quality ingredients that are gentle on your sick cat, not everyone can afford top-tier expensive food. So here are some substitutes you can use for your cat and her stomach issues.
Hill's Diet Gastrointestinal Cat Food
Hill's prescription diet is a famous substitute for royal canin, but it is exceptionally good for low-calorie, and healthy food.
It is tried and tested by vets and in labs to make sure it is safe for consumption by your cat. If you pair it with other healthy foods, then you will not have to think about your cat's digestive health because it is in good hands.
Not only that, this cat food has chemicals like Calcium Oxalate, which can help ease your cat from other issues like difficulty in urinating and kidney problems.
Some pros of this cat food are that it stops diarrhea, so your cat will feel more energetic, it contains stomach-based bacteria that are present to ease digestion, and there is also ample quantity of omega 3 fatty acids, which are vital for cats.
Hill's prescription gastrointestinal food can be fed to both young and adult cats, but a con of this is that some cats do not like the taste and refuse to intake it.
Natural Balance Ultra Chicken Cat Food
Natural Balance Cat food has the right amount of chicken in it to give your cat the protein it needs.
It is also available in salmon flavor, which also contains a good amount of protein to help in the digestion of your cat.
This cat food has just the right source of fats, so it does not feel heavy on your cat's stomach, while also keeping its coat and fur feeling fresh.
Some good things about this cat food: it contains rice and other types of fiber which aids in allowing food through the digestive system.
There is also a good share of minerals and vitamins present, so not only will these provide nutrition, they will also improve your cat's immunity and that is an added benefit.
However, Natural Balance Cat food is said to have grains, so if your cat only eats grain-free food, this can be a problem.
Nevertheless, it is still a good option if you want to switch from royal canin.
Diamond Naturals Indoor Food Formula for Cats
Can not afford Royal Canin? No worries, we got you. Diamond Natural Food for cats is a cheaper alternative to Royal Canin cat food, and can do almost all the same things for your cat's gastrointestinal issues.
Experts say that Diamond Natural Food is great for every stage in your cat's life cycle, so even if it does not have stomach or intestinal problems, you can still feed it to your feline friend.
With a healthy portion of flavorful chicken and a serving of protein, this cat food will do your cat good.
It is also made with good quality ingredients, even while being inexpensive, and at this price point foods are not usually this good.
Pros for Diamond Natural Pet Food are that it is high in fiber, protein, fatty acids, and important vitamins in the cat's body.
Moreover, this cat food also has quite a few antioxidant properties, so no more worrying about your cat's immune system or getting sick very often. They are also a great source of energy.
On the other hand, give this cat food to your adult cat. It is best advised to keep younger kittens away from it, but you can ask your vet about it if you have tried royal canin first.
Science Diet Light cat food for adult cats
Many cat owners whose cat does not like royal canin first switch to Science Diet Light Cat food at first. Maybe because it is easily available, but there is much more to it.
Science diet is a cheaper version of Royal Canin cat food. Not only will you find a much higher level of fiber in this cat food, but also a low calorie mix that is made to suit your cat's body weight.
Good source of protein and vitamin E for a healthy and shiny coat. Ample fatty acids to- the healthy kind.
As the name suggests, it is only intended for older cats of age around 1-6 years, so if you have a younger cat, you should try out other options we have mentioned above. Avoid giving to a pregnant cat as well.
Other than that, a couple of cat owners noticed that their cat was pooping weirdly after eating a science diet. This could just be a coincidence, because this cat food seems to fit many cats, but you should double-check with your vet just in case.
Adirondack Dry Cat food
Adirondack dry cat food is also an option if you've tried all other types of cat food and nothing suits your cat.
There are a couple of key ingredients present in this food that can make this food beneficial for your cat.
In chicken or fish, the protein of the food is present but in balanced amounts. There is a bunch of fiber there like oats, barley and rice. These things are light on your cat's intestines but also keep it full for a longer period.
Minerals, vitamins, and fats are present in good amounts as well.
However, there are other ingredients that are not so good for your cat. A few examples of these are grain sorghum. It may contain too much of high protein content to be safe for cats.
Oat groats are also present. These are oats without the outer covering on them, which is the healthy part. If that is not present, then there is no nutritional value in ingesting oats, which is the case here.
Brewer's dried yeast is also an ingredient in this cat food. It is not the best for cats, and is seen as a filler ingredient. But if you feel that the rest of the food is fit for your cat, brewer's yeast works too as it is not too harmful.
Please consult a vet for nutritional advice before you decide to stick with this cat food.
American Journey Cat Food
American Journey Cat food is a lot cheaper than Royal Canin food, so it is a viable option for many cat owners on a budget.
While it does not contain any harmful ingredients per se, there are still some things you should be cautious about.
American journey dry cat food contains more protein and fiber than the royal canin but a lesser amount of fat.
The only ingredients that are said to not be good for cats are canola oil preserved with a certain chemical.
It is best to consult a vet about these specific ingredients before you feed it to your sick cat.
Conclusion
In conclusion, what can be some good alternatives to Royal Canin gastrointestinal cat food?
If you feel that Royal Canin cat food is not suitable for your feline friend, then there are a couple of alternatives you can find. Some are more on the cheaper side, so if you are on a budget, they should do the job just fine.
All of them have some form of pros and cons over each other, so despite this guide, we suggest that you speak to your vet for an expert opinion on your own cat before settling with a brand.
That said, some of the best options are the Natural Balance Ultra Chicken food, Hill's prescription diet, as well as the Diamond Natural dry cat food. They are the first options you may find in the market under the name of gastrointestinal food for cats.
Other options include Science diet light cat food. This is also a commonly available substitute but some cat owners noticed irregularity in cat's poop, which can mean complications in digestion as well.
Notable mentions are American Journey Cat food and Adirondack dry cat food. These cat foods contain some controversial ingredients so use these with caution.
Ask your vet if they are fit for your cat with stomach or intestine problems. As long as your cat is fit and healthy and gets the right diet, things should remain just fine.
Wishing your cat good health!